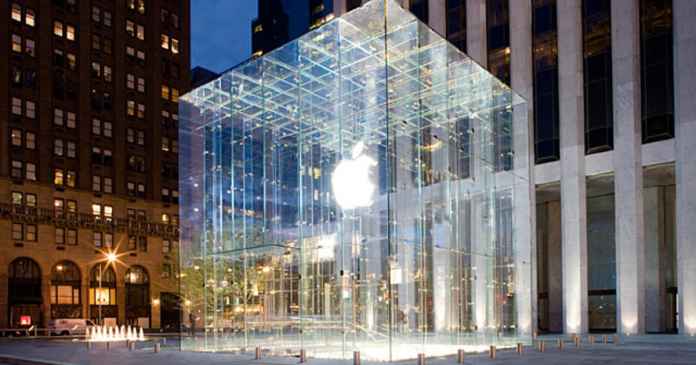 Apple is renowned not for its devices but its breath-taking stores as well. Where some stores are retrofitted into an old building and some are done purposely but there is no denial that there is no other retail chain like Apple in the entire world. We have covered some of the most impressive worldwide stores of Apple that will amaze you with its unique interior and stunning architecture. Here's How:
Apple Marina Bay Sands, Singapore: When 2020 was a difficult year for everyone to survive, Apple continued its operations in establishing a new store. Apple Marina Bay Sands is the latest Apple store, opened in September 2020 in Singapore. This is the first store that directly sits on the water and gives a 360° panoramic view of the city.
Apple Kärntner Straße, Vienna: This is Apple's first Austrian store which opened in February 2018. The store is located between St. Stephen's Cathedral and the Vienna State Opera. Keeping the original heritage building in mind, the store offers a corner entrance and reinstated columns with large window openings. 
Apple Dubai Mall, UAE: Opened in the year 2017 , this store features a 186-foot curved balcony and storefront that offers a spectacular view of the Dubai Fountain. The store is shaded with carbon fibre that helps in heat prevention. The idea of using solar wings (carbon fibre) is inspired by Arabic Mashrabiya and the store's 18 panels make it the largest kinetic art installations in the world. 
Apple Michigan Avenue, Chicago: This store is established on Pioneer Court and overlooks the Chicago River. Opened in 2017, the store is encased in glass and embraces two staircases; one at the main shopping area and the other at the forum space.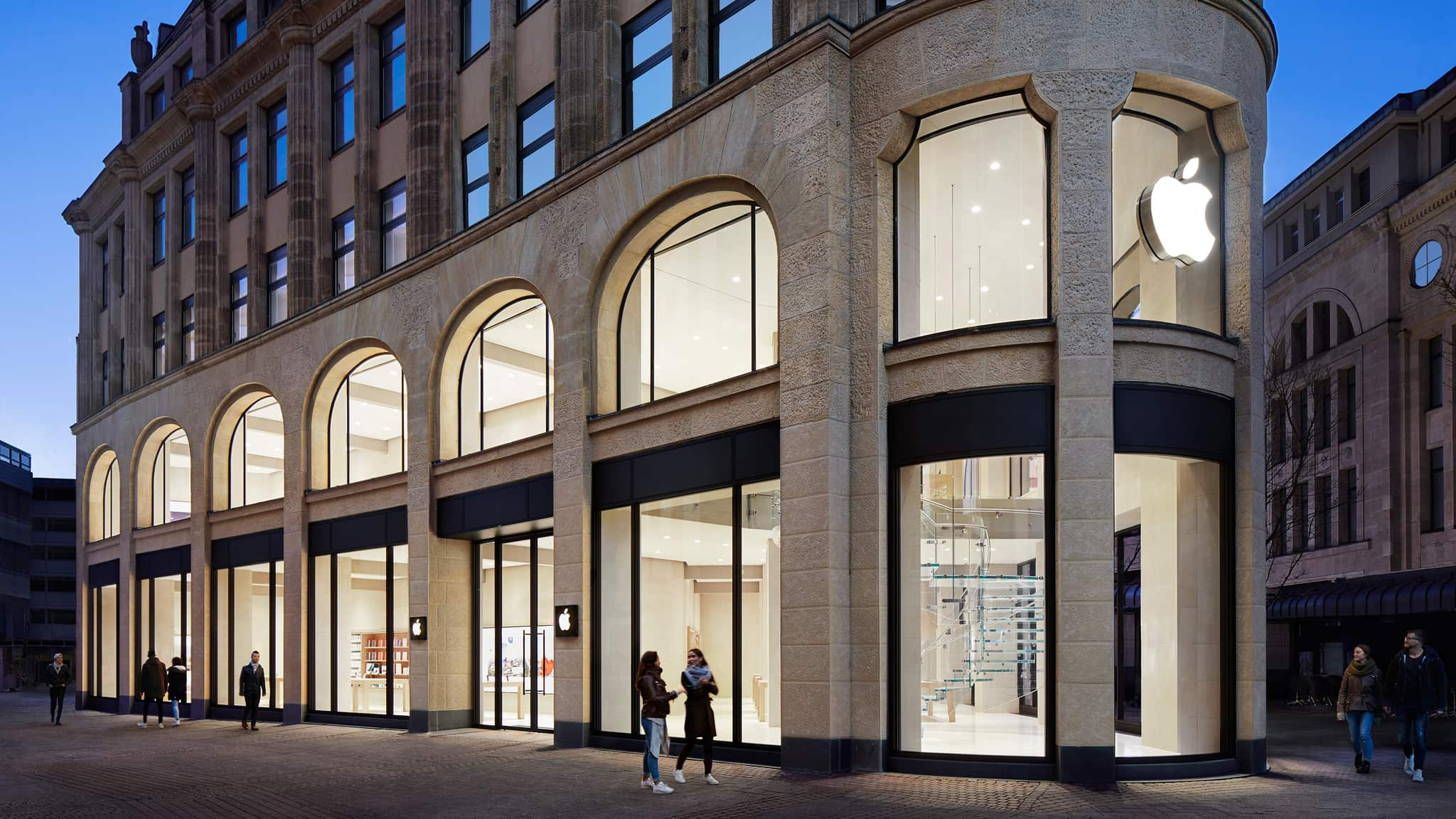 Apple Schildergasse, Cologne: This is Apple's first store in Germany which opened in March 2017. Its double-height grand hall has a circular suspended glass staircase with breathtaking interiors and views.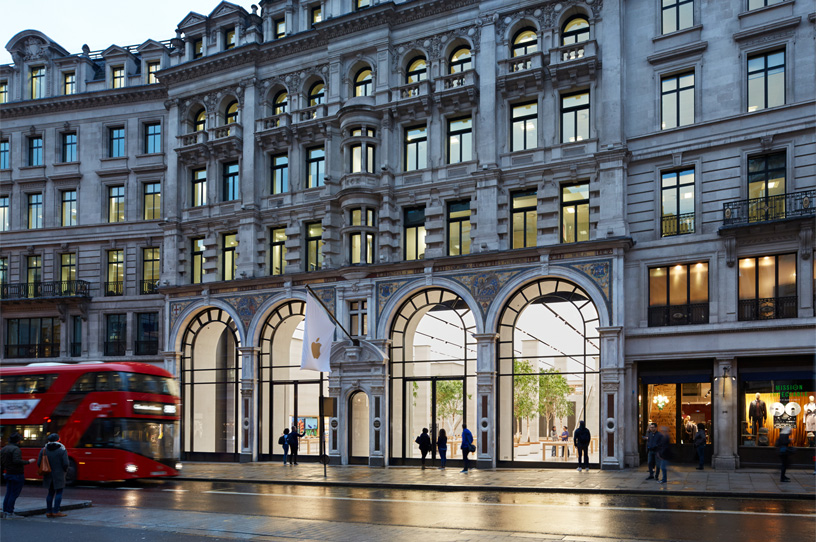 Apple Regent Street, London: Apple's very first store in Europe was reopened in October 2016 due to some renovations. This was the first store to feature trees and Castagna stone. Working in close coordination with Foster+Partners, Apple has preserved the building to ensure that the buildings in Crown Estate will remain in the rest of the street.
 Apple Marche Saint-Germain, Paris: Opened in December 2016, this is Apple's first store on the Left Bank and third in Paris city. The store is covered with Sebastopol Saint-Maximin limestone and offers an exceptional interior and immense architectural beauty.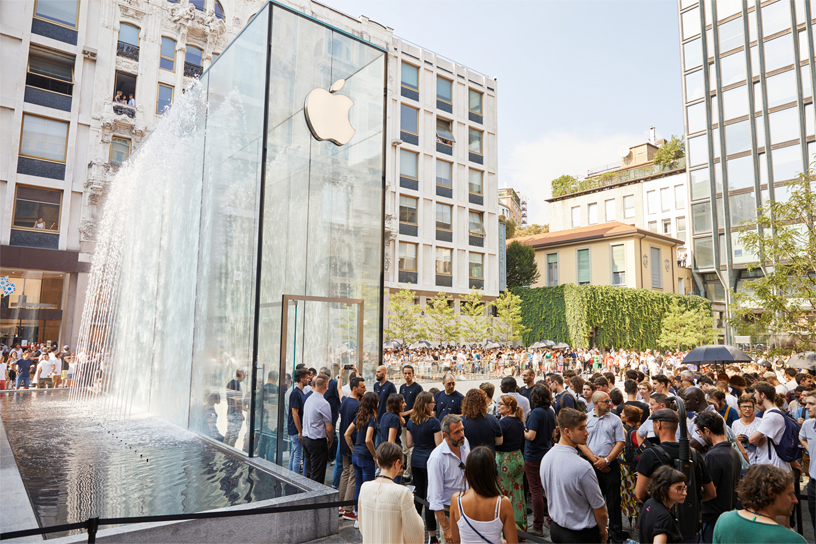 Apple Piazza Liberty, Milan Cathedral: The most popular store just off Corso Vittorio Emanuele Street. This street is the famous pedestrian street in Milan wherein, Apple's store offers a glass fountain to both the entrance of the store and to the outdoor Amphitheatre.
Apple Sanlitun, Beijing: This Apple store is established at Taikoo Li's open square in Sanlitun. This store is rebuilt on the footprints of Sanlitun's original Apple store. Undeniably, all Apple stores in the world run on renewable energy; likewise, Apple Sanlitun store. It has a solar array on its roof that provides power to the store. 
Apple Central World, Bangkok: This is the second-largest retail location in Thailand and is considered the heart of Ratchaprasong. It's Bangkok one of the iconic intersections and features a glass designed exterior. Once a person steps inside the store, he can easily travel between two levels with the help of a spiral staircase.