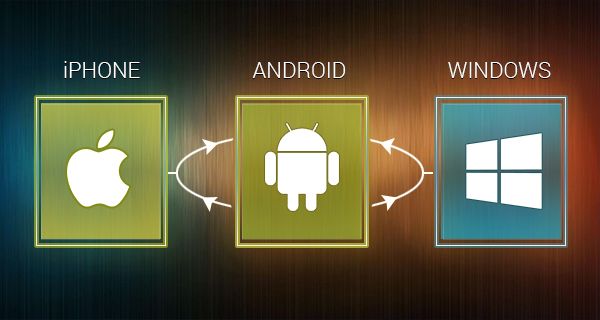 Many of us stuck in great dilemma when we are going to update our smartphone. We get confused between 3 top most operating systems, i.e. Android, iOS and Windows. Here we are trying to help you out by summarizing the difference between the three. We've gone through each of the big three; from notifications to apps, quick settings to custom skins and so on.
Design and Interface
Since decades Android, iOS and Windows Phone are recognized as powering devices universally, the way each one of them look and function has changed significantly in recent years. But, in reality, Android and Windows Phone both have undergone several renovations, and Apple has kept iOS almost intact since its launch in 2007. At the same time, Android got its major upgrade in 2014, introducing Lollipop 5.0. This transformed the older version to the newest 'Material Design' look and altered more or less every part to give it that extra bit of sheen.
Above all, the basics are still alike. You've got to see lock screen, which shows notifications. Once you unlock the device, you shall see an app-centric home screen along with an app drawer to store up everything else you download. iOS follows this blueprint too, but it disagreed to provide the app drawer, in its place apple gives you just home screens.
Now moving forward to Windows Phone, the up-to-the-minute version being 8.1, it is entirely different. Its home screen is a tiled interface, with resizable tiles tossing over to show more information about the apps you've installed. You can swipe to the left to get to all your apps and just like iOS and Android, you can group apps together in folders. Such live tiles provide you little bit of desired information without letting you to open the app. For example, the NDTV news app, gives you a rolling view of breaking news throughout. This style is also present in Android OS. Widgets have been a mainstay on Android since its very first version, though Apple added something similar with some additions in iOS 8.
At present, there's one thing that distinguish Android from Windows Phone and iOS: which is body look. Windows Phone, in relation to this, falls behind the other two. Android supersedes the both design wise.
Apps – store and download
Good look of operating system is important, but the real difference makers are apps. Apps store and app can create or smash any operating system. Just like windows phone, a gorgeous look, slick feels etc. fails if the app condition is not up to par. Each of three operating systems has their own app platform – Android has Google Play, iOS has the App Store and Windows Phone has the Windows Store. Few years back, Apple took over the app space. It contains the unsurpassed apps, equally in terms of design and functionality. But, the story took a new turn recently. Android unquestionably at present has all the bigwig apps. A large number of AAA games are also on equal footing between iOS and Android, which is an additional benefit. But, there's still definitely an iOS bias still around. Instagram, for example, seems intent on trialing everything out first with the iOS and then bringing it to Android later.
iOS has 1.4 million apps available for download, whereas Android has 1.5 million – with Windows lagging behind on just 340,000 (figures precise as on May 2015).
Features
One of the astounding features in iOS is also one of its most recent, Continuity. A text message can be commenced on your iPhone and you can conclude it on your Mac. Furthermore, you can also make calls from your MacBook if your phone is unreachable. If you are entirely tangled in the Apple world then it's an outstanding feature. As per user's reports, it works flawlessly almost every time. Occasionally calls hang for a bit too long on the Mac and there are moments when messages not at all appear, but it's highly infrequent.
Both Android and iOS have free messaging apps; they are Hangouts and iMessage respectively. Windows Phone users have Skype.
A further key characteristic of each of these operating systems is its 'virtual assistant'. Users can interact easily with Siri, Google Now and Cortana for iOS, Android and Windows Phone respectively.
Tablets
iOS provide phones and tablets with almost identical features, Apple has just, with the launch of iPhone 6s and iPhone 6s plus, tried to make the larger screen real-estate. Split-screen multi- tasking, similar to we contain on larger Android slates, would be good. However, iOS gets it precise when it comes to tablet made apps, somewhat still missing on Android. Whilst, Gingerbread provided Android a tablet look and Lollipop took it back in line with the phone. Therefore, if you're familiar with the one, you can easily go with the other. Presently, Windows tablets run Windows 8.1 and it is more alike a PC than a tablet OS.