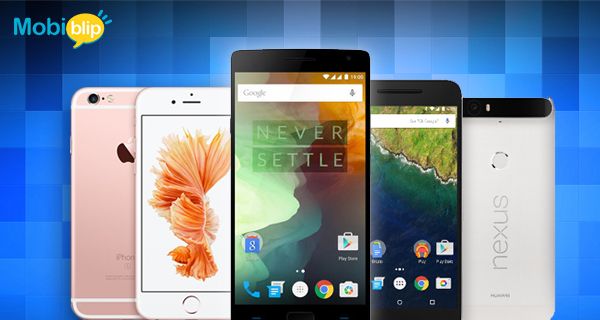 2015 gave a few smartphones which can be your choice for your next up gradation. Though, there are not many as Sony, HTC and LG didn't launch anything electrifying. But it was a great year for the big players. Apple's iPhone 6 and Samsung's Galaxy S6 and Galaxy S6 Edge are flagship smartphones and far better than any previous launches by both makers. In the end of 2015, there were some solid releases, from Google, with the Nexus 6P, Apple with its iPhone 6s and iPhone 6s Plus, Samsung with the Galaxy Note 5 and Microsoft with the Nokia Lumia 950 Dual SIM and Nokia Lumia 950XL Dual SIM. On the whole, there is something for everybody in the market. However, notwithstanding the bias, there are some evidently stupendous smartphones. Here are the seven listed below which we think are best (in no particular order).
Microsoft Lumia 950XL Dual SIM
This is the best Windows smartphone ever made. It is also the one of the firsts to run on the new Windows 10 Operating System. Above and beyond showcasing the Microsoft's striking looking Windows 10, the Lumia 950XL Dual SIM features a 5.2-inch 1440×2560 OLED display, a powerful Snapdragon 808 64 bit Hexa core processor, 3GB of RAM, a USB Type-C port, a massive 20MP f/1.9 PureView camera with triple LED flash, Qi wireless charging and an Iris scanner. It completes the box with continuum technology which turns the phone into PC using different interfaces. With this phone, the Microsoft Display Dock has been also launched for INR 5,999 which is free for some of the lucky early birds. Additionally, it offers the much secure Microsoft Hello (Beta) to unlock the handset. This much awaited smartphone is reportedly the choice of a huge crowd of tech fanatics.
Google Nexus 6P
After the Nexus 6, Google needed to launch something special for 2015 in order to revive the interest of users in its Nexus series of smartphones. The Big G ventured with Huawei to accomplish this and the Chinese smartphone maker truly came up with all the goods desired for this product. The Nexus 6P is easily the best Nexus handset ever produced. It looks quite fantastic and performs fabulous.
The device has awesome specifications and looks great with its premium metallic body. Plus, its hardware is incredible and assures prolonged working. Never before, the Google's Nexus felt so well.
iPhone 6s
iPhone has gained uncountable fans across the globe and Apple has, in fact, beaten themselves with the launch of iPhone 6s. The iPhone 6s features key improvements across the board including the wonderful 3D Touch display which addition of a new layer of multi touch interaction. The insanely powerful A9 chip and improved cameras with Live Photos support is the reason why this is the best iPhone ever.
The iPhone 6s looks exactly the same as the iPhone 6. The slight difference is in weight. The only physical change in the iPhone 6s is its new color, i.e., rose gold. Apart from this, the handset is simply an improvement of what came before.
Samsung Galaxy S6
Undoubtedly, the Galaxy S6 is one of the best Android handsets currently present the Indian market. The S6 is a huge improvement over the S5, having a plastic body for aluminum. It has also got an upgraded fingerprint sensor (that actually works now), a heart rate sensor and wireless charging. This highly impressive handset offered by Samsung is what the fans have been eagerly waiting for. Samsung might have made some mistakes but all is let off now as the Galaxy S6 is one of the finest handsets as per tests of tech experts. It performs great, battery is far better and it looks stunning.
LG G4
Other than Samsung, if you're still looking for a flagship with a removable battery, then, the LG G4 is your phone as you can also carry charged battery with you. This smartphone comes with quick charge technology, but you have to buy a special charger for that and it sold separately. It's also the only smartphone with unique offerings of leather or ceramic back plates for those style lovers who are now bored of metal body phones. And add in that is its 16 megapixels camera with optical image stabilization. It comes in Leather black, leather red, leather brown, gold, white and grey color variants.
HTC One M9
The Taiwan based HTC's flagship smartphone; HTC One M9 is most likely the best looking Android smartphone in the market. This smartphone has got a beautiful sleek metal body that comes in gunmetal grey on grey, gold on gold, and gold on silver color variants. This is powered by a killer Qualcomm Snapdragon 810 64 bit Octa-core processor with a RAM of 3 GB. Another nice thing about this phone is that it has retained its microSD card slot. Some companies are starting to abandon this feature in its flagship phones. Besides, it packs with a 20 mega pixels primary camera and 4 ultra pixels front camera for capturing excellent quality selfies. The only slight flaw in this phone is its single SIM compatibility.
OnePlus 2
The Chinese manufacturer has recently stunned everyone with the launch of OnePlus X. Previous to this, the company unveiled the most hyped android phone of the year and that is OnePlus 2. OnePlus came combating out of the gates a few years ago to capture the market of big players in the battlefield. Yet, it is successful in India, but still it is lower in scale if compared to other android flagships. That's because the OnePlus 2 is deficient in NFC, wireless charging, a microSD card slot and a removable battery. Plus, it also only comes in 16 GB and 64 GB storage options. However, it features a new USB Type-C port and the powerful Qualcomm Snapdragon 810 64-bit Octa core processor being priced at INR 24,999 for 64 GB model and INR 22,999 for 16 GB model.