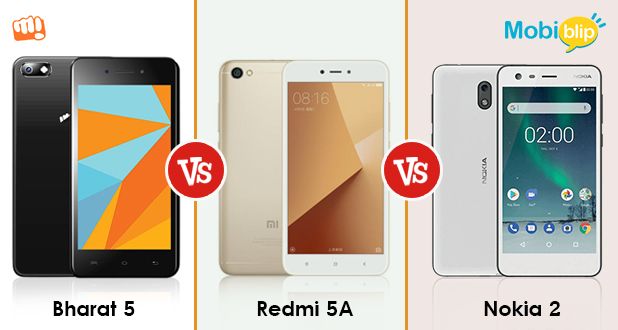 Every Smartphone that is launched wants to grab the user's attention and become a best seller, in the past one month competition is heating like crazy. Nokia, Micromax, and Xiaomi are the best Smartphone makers and their competition is getting hotter with all the three launching a similarly priced budget smartphones. Nokia 2, Micromax Bharat 5, and Xiaomi Redmi 5A are offering the best specifications and truly best prices. So, if you want to buy any one of them, check out our comparative review:-
Design and Camera:
As far as the design and build are concerned, Bharat 5, Redmi 5A and Nokia 2 are able to set new standards. All these three phones are slim and glossy.
Camera section of all these 3 phones are impressive but Redmi 5A has the upper hand on other two phones as it has a 13MP rear camera with LED flash and front camera of 5MP. While Bharat 5 has a rear camera of 5MP with LED Flash and a front camera of 5MP; the Nokia 2 has 8MP rear camera with LED flash and 5MP front camera.
Display:
Bharat 5 has a bigger screen size as it has a screen size of 5.2-inch whereas Nokia 2 and Redmi 5A has the same screen size of 5-inch.
Processor:
In terms of speed, Nokia 2 and Bharat 5 cannot match the speed of Redmi 5A. Nokia 2 and Bharat 5 have the processor of Qualcomm Snapdragon 212 and MediaTek 1.3GHz quad-core respectively. On the contrary, Redmi 5A is powered by the Snapdragon 425 processor.
Storage:
Nokia 2 offers the combination of 1GB RAM and 8GB ROM whereas Bharat 5 offers 1GB RAM and 16GB ROM. But, Redmi 5A offers two storage combinations which include 2GB RAM with 16GB internal storage and 3GB RAM with 32GB internal storage. It would not be wrong to say that Bharat 5 and Nokia 2 are no match for Redmi 5A's awesome storage space.
Battery:
Bharat 5 has the biggest battery as compared to other phones. Bharat 5 has the 5000mAh battery whereas Nokia 2 and Redmi 5A have the battery of 4100mAh and 3000mAh respectively.
Price:
Redmi 5A price depends on its variants as its 2GB/16GB cost you Rs. 4,999/- whereas 3GB/32GB variant carries the price tag of Rs. 6,999/-. Nokia 2 and Bharat 5 carry the price of Rs. 6999/- and Rs. 5555/- respectively.
Which phone would you prefer to buy and why? Tell us in our comment section.