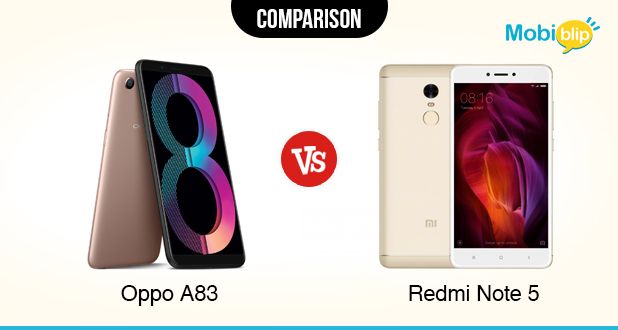 Oppo is currently holding a position in top five smartphones vendors in India and the company tries to maintain its position by launching trendy phones . Recently the Chinese company released Oppo A83 which is a great alternative to Xiaomi Redmi Note 5.
Confused which one pick? Check out the comparison between the two
Display
The Oppo A83 has a 5.7-inch screen with a resolution of 1,450x720p and pixel density of 282ppi, which is lower than Redmi Note 5 which offers a bigger 6-inch screen, 2,160×1, 080p resolution and 403ppi pixel density.
Operating system
Oppo A83 has got a custom UI, called Color OS and runs on top of a one-year-old Android 7.1 (Nougat), the phone is powered by MediaTek's 16nm Helio P23. Whereas, Redmi Note 5 runs on Xiaomi's MIUI 9 and Android 7.1 (Nougat), and is powered by Qualcomm Snapdragon 625 processor.
Storage
Oppo A83 offers a 3GB RAM and 32 GB internal memory which is expandable up to 256 GB via microSD card. On the other hand, Redmi Note 5 offers a greater 4GB RAM but the lesser internal memory ie 64GB.
Camera
The A83 is equipped with a 13-megapixel rear camera and 8-megapixel front camera while Redmi Note 5 has a 12-megapixel rear camera along with a 20-megapixel front camera. No doubt in this section Redmi Note 5 beats Oppo A83.
Price
Oppo A83 is priced at INR 14,900 and Redmi Note 5 is available for INR 9.999.