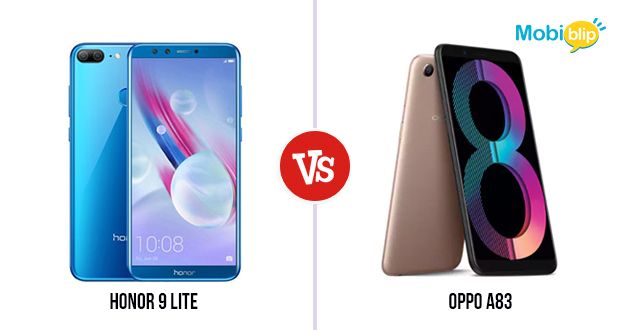 Oppo A83 and Honor 9 Lite are probably the most searched and the best launches of Jan 2018. Both the Smartphones offer the best specifications to attract buyers, especially selfie lovers. Oppo A83 comes with facial recognition technology whereas, Honor 9 Lite comes with a staggering four cameras. But, their impressive specifications might confuse the buyers. So, here is our detail comparison for you to make the right pick:
Design and Camera:
As far as the design of both the phones is concerned, they look pretty impressive. Honor 9 lite has a great camera section with a combination of 13MP and 2MP. On the contrary, Oppo A83 comes with the decent camera 13-megapixel rear camera with LED flash and 8-megapixel front camera.
Display:
There is no major difference between the displays of both the Smartphones as Honor 9 Lite comes with a 5.65-inch FHD display whereas, Oppo A83 has a 5.7-inch HD display. But, there is a noticeable difference in their resolution because Honor 9 lite comes with the 2160 x 1080 pixels whereas Oppo A83 comes with the 1440×720 pixels.
Processor:
Oppo A83 is slow as compared to Honor 9 Lite. It comes with the MediaTek 6763T processor whereas, Octa-Core Kirin 659 processor ensures the speed of Honor 9 lite.
Storage:
Honor 9 lite has an upper hand on Oppo A83 because it offers two storage combinations of 32GB & 64GB with 3GB RAM & 4GB RAM respectively. On the other hand, Oppo A83 offers 3GB RAM with 32GB internal storage.
Battery:
Oppo A83 comes with the battery of 3180mAh whereas Honor 9 lite has 3000mAh battery.
Price:
Price of Oppo A83 is Rs 13,990 whereas 3GB variant & 4GB variant of Honor 9 lite costs you 10,999 INR and 14,999 INR respectively.
Verdict:
While we are loving the facial recognition technology in Oppo A83. On the other hand, quad cameras of Honor 9 Lite make it special. Oppo A83 seems pretty expensive because it fails to beat Honor 9 Lite in terms of design, display, speed, and storage. So, it would not be wrong to say that Honor 9 Lite is the smartphone of the month.
Stay tuned with Mobiblip to know about the best smartphones.