Recently with the rolling out of the iOS 14.5 update, Apple brings a plethora of amazing new features. We bring you the complete list of the news features that you can enjoy
1.Strict Transparency in App Tracking: Apple's App Tracking Transparency would require user permission for the apps that track people's information across different websites and apps.
2. Unlock iPhone with Apple Watch while Wearing Mask: With the ongoing pandemic, users were facing difficulty in unlocking iPhone through face lock due to the half-covered face with a mask. This feature is like a revolution with an idea to bypass the Face ID. Now, users can unlock their iPhone with Apple Watch by wearing a mask.
3. Siri Improvements: Apple always upgrades its virtual assistant i.e., Siri with the release of every iOS version. With the latest iOS 14.5 update, Siri is available with two new voices that are Voice 1 and Voice 2 with no gender categorization. These voices have become faster, smarter, and more natural-sounding and can also make group FaceTime calls.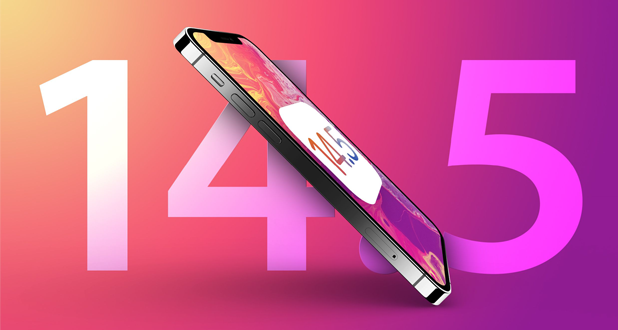 4. Nifty – Battery Recalibration: The new update will come with a nifty feature which is also called battery recalibration. This feature would display the battery's health and status. If battery recalibration doesn't happen then, the iPhone's battery can be replaced by Apple with no charges.
5. Dual Sim – 5G: The iPhone will support dual sim i.e., both the physical SIM and e-SIM with access to 5G on both.
6. PS & Xbox Series Controllers: The PS5 will be supported by DualSense or Xbox Series X/S controllers with which users can easily play games on their device.
7. New Emojis: The new iOS update will have a bunch of 217 new emojis including the redesigned emojis such as vaccine syringe with the blood removed, couple with heart, couples kissing, faces with swirling eyes, a new headphone icon lookalike AirPods Max and a lot more
8. Maps & Navigation: iOS 14.5 update has improvised its maps with features like reporting speeding points and accidents.
9. Improvised Reminder App: With small changes and improvements in the reminder app, a user is enabled to sort his reminders in a more organized way.
10. Podcast App: Podcast App is enriched with more features giving more information with a lookalike of the Music App.
11. AirTag Support: The iOS 14.5 update officially supports AirTag, a tracking device for items.
12. Interactive Widgets:  Apple has made widgets more useful by showcasing information with the usage of simpler buttons to link some sections inside an app. Such as; controlling playback music from an app's widget, scrolling through activity's information via Apple's Fitness widget, marking completed tasks with Reminder widget, etc.
13. Practical App Library: Comparing all the previous iOS versions so far, the layout of App Library is a big addition to the new update. It automatically clubs everything into predetermined categories instead of arranging it manually in different folders. Also, the App Library has a search bar with a vertical scrolling list that shows each installed app in alphabetical order. With this update, a user can easily place, organize and search for a specific app with a clutter-free home screen.