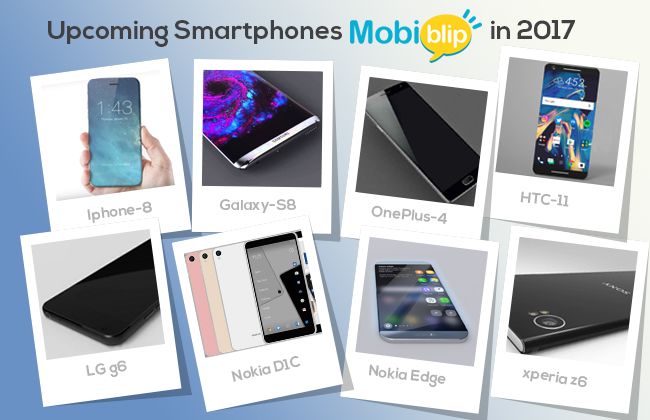 2016 has been one of the most innovative years for the Smartphone market, from dual cameras to 5000 mAh battery and dual pixels. The highlights of the year include bigger battery, powerful processor and new fast charging techniques. The year has came to an end and rumors regarding what New Year 2017 will offer to the Smartphone world continue to hover around the web. While 2016 has been an enticing year for the enthusiasts, 2017 promises to be faster and offers longer battery life. When everyone was waiting for the new 830 Soc Qualcomm surprises us with Snapdragon 835 which claims to boost 25 percent faster graphics rendering and reduces the power consumption by half compared to Snapdragon 801.
In addition, Qualcomm claims that new processor has got 20 percent more performance up its sleeve compared to 820 Soc. Expect this processor to be linked with minimum of 4GB RAM till 8GB of RAM with minimum in built memory of 32GB, segment best camera and big QHD screens. Samsung Galaxy S8, LG G6, One Plus4, HTC 11 is expected to house this new chipset. Keeping all that aside, let's check the speculated new top Smartphone launches of 2017:-
Apple iPhone 8
Last year Apple continue to stuck with the similar design of previous gen model for the new flagships iPhone 7 and iPhone 7 plus. Apple added few additional features that affirmed its premium price tags and highlight was the dual 12MP rear camera set up of iPhone 7 Plus. Apple also added waterproofing and ditched the 3.5mm audio jack which went on to become a controversial decision. Apple I Phone is just a couple of months old and there have been a lot of rumors already about the next flagship iPhone 8. Reportedly, Apple is all set to bring OLED screen with curved or bezel less display. Further Apple might introduce 3 size variants with an addition of 5 inch model and dual rear camera set up will stay.
Other rumors suggest that there will no physical button on the front instead it will get touch ID scanner. The new flagships might get wireless charging and biometric features such as IRIS scanner or face recognition. The new Flagships could be rolled around August 2017.
Samsung Galaxy S8
Samsung's flagship S7 had almost everything one wants from a premium device but the battery fiasco of note 7 ruined it all together. Samsung S series is one of the much awaited launches of the year and the next version will be unveiled at MWC 2016. As rumored, S8 could have 6 inch OLED display, 8GB RAM and artificial intelligence system. Samsung might also ditch 3.5mm audio jack and introduce USB type-c charging port. Also rumors that S8 might get away with physical button and get an ultrasonic fingerprint scanner, it might also get dual rear cameras (13+12MP). S8 might become the first Smartphone to house Snapdragon 835 processor and allow users to plug into screen and turn it into a desktop. It could also get 4K display and two versions- 5.1 inch and 5.5 inches.
OnePlus 4
Following the trend of one flagship per year, OnePlus 4 could be the next big thing for this year. However, company might skip number 4 and go for OnePlus 5 as the number four is considered as unlucky in Chinese traditions. According to reports, it could feature all glass body, IRIS scanner, 20+ MP cameras, 8GB RAM and 128GB of internal storage. OnePlus 4 is expected to get Qualcomm Snapdragon 835 processor and Quad HD or 4K display. The battery is also likely to be around 4000mah mark. It could be launched around the 2nd Quarter of 2017 and could become another benchmark setter for OnePlus.
HTC 11
HTC is one of the finest Smartphone makers in the world, known for making handy devices. However, in India it has been struggling in the premium segment but not giving up yet. The brand is looking to launch its new flagship HTC 11 which will also be the successor to last year's HTC 10. The new flagship will be more sophisticated and comes loaded with some high end features. It you think last two flagships was not worthy for this price then prepare for mouthwatering specs of HTC 11. If reports are to be believed, it will come with Snapdragon 835 processor, 8GB RAM and 256GB of internal memory, QHD screen and 3700mah battery with Qualcomm fast charging support. HTC to launch unveil three new Smartphones including HTC 11 at MWC 2016 while India launch could be around June-July.
LG G6
After launching G5 last year, LG is now pepping up for G6 at Mobile world congress 2016 and going by brand's recent trends G6 will hit the shores by April 2017. The LG might ditch the premium design of G5 and go for all glass design and some flagship specs. Expect G6 to feature 4K display, Snapdragon 835, 6GB RAM and awesome extreme cameras. Based on rumors, G6 is likely to get a 15W wireless charging pad, new Iris scanner and latest version of Android Nougat.
Nokia
One of the biggest highlights of 2016 was Nokia's announcement of its comeback in the Smartphone market which became nostalgic moment for many of us as Nokia was the first mobile we used. Following the expiry of clause signed with Microsoft, Nokia new devices will be Android based which will be manufactured by HMD global.
Nokia will kick off its second innings with an affordable device called D1 C (tentative name) which is expected to be rolled out at next month's MWC. The Android nougat based Smartphone to come in two grades- 2GB/3GB RAM with Snapdragon 430 under the hood. It is likely to available in two screen sizes 5 inch and 5.5 inch in the price range of 10,000 and 12,000. Nokia P or Nokia Edge is expected to be another device which is likely to launch in second half of the 2017. It will be the flagship device for the brand as it might Snapdragon 835, 23MP rear camera, QHD screen, 6GB RAM, IRIS scanner and much more. It is likely to set you back around Rs. 30,000 mark. Nokia will showcase its new range of Smartphones at MWC 2017 next month; it will be interesting to see the pricing strategy for India.
Samsung Note 8
Following the awful demise of Note 7 which dented Samsung in both financially and reputedly, Samsung is gearing up for its next flagship Note 8. The breakdown of Note 7 has bruised Samsung very badly and some even saying that the brand will look to mend its repo by introducing Note 8 and Galaxy S8 at MWC 2017. The device is slated to come with 4K display, Snapdragon 835 or latest Exynos processor, improved stylus pen, Bixby personal assistant and 8GB RAM. Note 8 might features dual rear cameras with 9MP front facing camera with 4K video recording support and waterproofing. We expect to see Note 8 by July 2017.
Sony Xperia
After neglecting the expected Xperia Z6 at MWC 2016 and instead announced the new X series. We already witnessed Xperia XZ dual with 23MP camera and other decent stuffs. We have good news for Z6 avocados, as there's a good chance the handset will arrive during 2017 Mobile World Congress press conference. Expect to bear Snapdragon 835 soc, 30MP rear camera, water and dust resistant, Android nougat 7.1 and much more. In addition, Sony might also introduce Sony Xperia E5, Xperia Z5 and Xperia X2.
Apart from these flagship killers, there will be plethora new launches lined up for 2017, we have information of some of them:
| | |
| --- | --- |
| Smartphones | Expected launch |
| Xiaomi Mi 6 | February 2017 |
| Google Pixel 2.0 | September 2017 |
| New Motorola series | March, July 2017 |
| Blackberry Mercury | February 2017 |
| Oppo Find 9 | January 2017 |
| Nokia Z2 Plus | August 2017 |
| Nokia Edge | August 2017 |
| Nokia E1 | February 2017 |
| Samsung C7 | N/A |
| LeEco Le 2 Pro | March 2017 |
| Xiaomi Redmi Note 4 | April 2017 |
| Huawei Mate 9 | January 2017 |
| Samsung A7, A3, A5 | August 2017 |
| Vivo X9 | May 2017 |